Getting Back-to-School with Spelling City

The excitement of going back-to-the-books is always filled with an explosion of activity. The extracurriculars, sporting events,co-op planning, family fun weekends & the newness of books, supplies and bags can keep we homeschoolers running just as much as our public school counterparts. Behind all the joy of back-to-school lurks a heavy anxiety that can get most normal parents frayed at the edges, somewhere close to the line of insanity . . . oh wait, that must just be me! "Are my kids ready to rise to the next level of achievement?" "Will they rise to the excellence that we are hoping to reach in their education?" Well, if this is you too, here is a super resource to help you rise above the "fray" with your sanity in tact.
SpellingCity.com
is a great resource for getting your kids ready for that next and higher level of work that they will experience this year. Forget the workbooks and start them here to be engaged and challenged on the next level.
Spelling City offers many engaging options for students to rise to the next level . . . and in more than just Spelling. This site offers Vocabulary and Grammar drills for each and every grade level and age. The site has many resources for parents and teachers to use: wonderful printables, handwriting practices with spelling lists included, writing instructions to use while working, literature & phonics-based word lists, student writing practice and state-specific geography games & printables. The wonderful and creative games that
SpellingCity.com
offers for the kids will help them each rise to that next level of achievement: Speedy Speller, Missing Letter, Test Me Spelling, Hang Mouse, Match It, Letter Fall and much more. So toss the workbooks & lets get to drilling the fun way!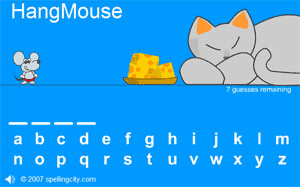 In this great spin on "Hangman", you must guess the correct spelling and word. When you miss, the kitty-cat gets a little closer to Mr. Mouse . . . yikes!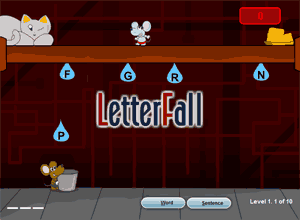 Catch the falling letters to help Mr. Mouse spell out the word. Run mousy, run!
Kids race the clock and each other to see who can spell the quickest in all the land!
What am I super loving about this educational resource site?
SpellingCity.com
can be used, in many ways, for no charge! Many games and printables are still available online for FREE. Yep, that's for me! They also offer a great value
Premium Membership
that allows educators, students and parents the ultimate experience and a virtual unlimited educational blessing. With the Premium Membership beggining at $24.99 for an annual family license ($49.99 for a classroom) the best stuff is right at your fingertips.
A Premium Membership:
Tracks students' activities on SpellingCity.
Provides a gradebook and individual records.
Enables the Premium Games, LetterFall and SpeedySpeller.
Allows you to read the students' writing exercises, respond to them, and keep records, all online! It's green and efficient.
Check - out a fun spelling test I, myself, could not resist . . .

Here is my FOOTBALL FANATIC spelling test 100% . . . no surprise there!




| | | |
| --- | --- | --- |
| | | |
| | | |
| | | |
| | | |
| | | |
| | | |
| | | |
| | | |
| | | |
| | | |
| | | |
| | | |
* I received a complimentary membership during the review of this product. I have received no reimbursement, of any kind, for the review I have just given of this product. All the views and opinions expressed in the review are my own, and I was not compensated for posting them.*
Joyful & blessed homeschooling to you!
aka The Joyful Socks Mom
Need some super Spelling resources, here are some of my favorites: