- - - - - - - - - - - - - - - -


OWL MOON
by: Jane Yolin
{FIAR}
"Rowing" the Week (@ Co-op)
*Note: Five in a Row is made to be a five day curriculum - as we only attend Co-op 3 days per week, I will post what we have done in class and fun resources for that you may want to do at home. (Not REQUIRED homework - just some family fun options.)
Wednesday:
Language Arts
- We discussed Similes and Metaphors during "Rowing" discussion today. The author uses several throughout the book.
Thursday:
Science
- "Phases of the Moon" Oreo Snack
We used this awesome snack (okay, maybe not health wise - but the kids loved it!) to illustrate and discuss the phases of the moon.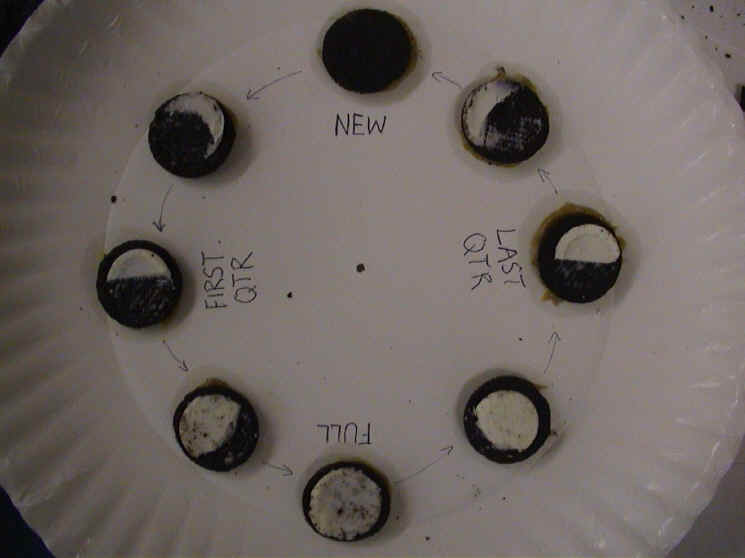 Bible
- We discussed the Biblical characteristics of self-control and bravery. The child in our story had to display these qualities in the book while walking in the dark, shadowy woods at night.
Art
- We constructed some lovely Mosaic Owls for our Homeschool Portfolios (Parents: If you haven't had a chance to stop by and peek at your student's work come on by. They have been working hard and have taken care in building their portfolios this semester. I am proud of their efforts.)
WHOOOO'S Owl is this? Let's play a game! 1st Co-op student to tell me WHOOOO's owl this is get 10 bonus points! (Please tell me at Co-op class-time - do not reveal on this blog.)
Co-op HOMEWORK
:
Complete Notebooking pages for Owl Moon - The complete project should be glued to provided cardstock and placed in sheet protector. These need to be returned to Mrs. Mac on Tuesday next week to place in our Homeschool Portfolios.
P.S. Ask my kids to give you a Great Horned Owl hooting demonstration, I think they may oblige.
FIAR Fun at Home options:
Nature Study - Discover God in His wonderful creation, just as the child and Dad did in our story. Take some card stock and some simple rings to create a Nature Journal. Go exploring and use your journal to make observations and sketch pictures of the beauty God created.
Owl Moon Snack - This is a cute one I found on Pinterest! (I know, I have a problem . . . )
Owl Collage - Make a collage with pictures of owls or other woodland animals.
Current Phase of the Moon -


More Owl Moon Resources:
(a.k.a. Joyful Socks Mom)
- - - - - - - - - - - - - - - - - - - - - - -